Skateboarding generates lots of money for the economy through product sales. On an average, 100,000 decks are produced per month for sale. The skateboarding industry boasted sales of 720 million dollars during the past year!!!
These are the products that make up the skateboard. These inlcude the wheels, bearings, trucks, griptape, and the wooden deck.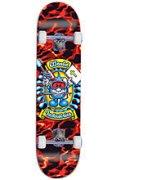 This is what the skateboard looks like when it is completely constructed.